You didn't start your business to become an HR expert. Outsourced HR consulting services can help you set your company up for success and ensure the best HR strategies and processes are in place!
Establishing your HR foundations (and implementing the right modern processes and strategies) can impact your growth trajectory and the success of your business overall!
Thin
k of it this way: a building requires a solid foundation to stand the test of time and protect the people inside of it…and so does your company.
Imagine what it would take to backpedal and revisit a poorly laid foundation that started to crumble once the building was already standing. You would have to tear it apart, floor by floor, lose revenue with each passing day, and it could take years to address the problems completely.
The same can be said for HR foundations.
These require a lot of time, proactive, proven approaches and expert oversight…it's vital to get it right the first time!
If you aren't yet ready to make an internal HR hire, handling HR tasks alone can put a LOT on your plate. It can also take your focus away from other business areas and put your entire company at risk.
That's where outsourced HR consulting comes in.
Turning to outsourced HR consulting services means you'll have a senior-level professional in your corner to help establish your HR foundation, processes and strategies and set your business up for success.
Outsourced HR consulting can encompass many things and benefit your business in many ways. In this guide, we'll review what outsourced HR consulting is, when and why business leaders consider it, its many advantages, and more!
What is outsourced HR consulting?
Outsourced HR consulting is an HR service whereby experienced consultants provide organizations with guidance, advice and solutions to HR-related issues and challenges.
There is a natural gap that most businesses face as they grow. That gap falls somewhere in between needing an HR strategy and processes in place (but not having the budget or workload for a full-time hire) and hiring an internal HR expert. Outsourced HR consulting is a solution to bridge that gap.
That gap is why companies often bring in outsourced HR consultants because they aren't ready to make a full-time HR hire.
Or, they do so because they're looking to complement an internal resource, such as a junior-level employee.
Outsourced HR consulting services can encompass various areas such as talent management, compensation and benefits, employee relations, compliance, and organizational development – it varies by firm!
At Castle HR, we offer modern HR solutions that help organizations manage their human resources effectively as they scale.
Why do companies hire outsourced HR consultants?
Companies hire outsourced HR because they are not yet ready to make an internal hire (nor do they typically have the budget to do so), but they still require HR help and want to have strong HR foundations in place as they grow.
They want something economical and based on proven processes that can bring success in a short period…and that's precisely what outsourced HR consulting strives to accomplish.
The right HR strategies can help businesses hire better and retain longer, see a steady increase in revenue, avoid lawsuits, and build a strong company culture. Battle-tested processes brought to the table by a consultant with a proven track record is a great way to accomplish all of these things.
At Castle HR, we've had clients have partnered with us because they need an HR expert to help them achieve the following:
Less time spent on HR challenges
Improved compliance and reduced legal risks
Automation of HR processes
Better retention
Stronger company culture
Confidence in their ability to scale their business the right way
Outsourced HR consulting can achieve all of the above (and more) by helping business owners establish a strategy and put repeatable processes in place – that is why companies choose to hire outsourced HR consultants.
When should companies consider outsourced HR consulting?
We often say that 15 people is the optimal company size to begin using outsourced HR consulting services.
We say this because, before you have a team of 15, growing revenue and establishing product-market fit was likely your priority at this point. But, once you have hired 15 people, you'll likely set your sights on bigger growth goals and need to focus on adding even more talent to your team.
A rapidly growing team brings new challenges – it's no longer just about revenue.
We find that with 15 people, companies do not need a full-time HR professional, nor can they typically afford one. However, they still require solutions, processes and strategies to be implemented to solve their HR problems, help them reach their goals, and avoid mishaps as they scale.
Once your company reaches about 50 people, it will then be time to start considering a full-time internal HR hire – and at Castle HR we can not only help you find that person, but also get them up and running with all of the repeatable HR processes we've helped you build.
Internal hire vs. outsourced HR consulting
What are some main differences between an internal HR hire and an outsourced HR consultant, and how do you determine which suits your business?
Check out the chart below for a quick comparison:
What challenges does outsourced HR consulting solve?
There are several reasons why business leaders opt to hire an outsourced HR consultant – usually, they are brought in to solve a problem and tackle various HR challenges.
Business leaders bring in outsourced HR at different stages of their growth. Still, we typically see people come to us when they have their product-market fit, have validated their service, and are ready to scale their teams and double down on success (but, as we said earlier, they are not yet prepared to make an internal HR hire).
But why exactly are outsourced HR consultants hired? Here are some of the challenges that they can solve:
Reactive vs. proactive approaches – your outsourced HR consultant will work to proactively address HR challenges, meaning you won't have to backpedal as you scale
Build your HR strategy – they will establish or advance and formalize what you already have (for instance, they'll turn your loose policies into an employee handbook)
More bodies to help you grow – they'll be there to help and bring expert-level knowledge to the table…but without being a permanent hire
Hire better talent – you need a strategy to find the best people for your team, and this goes deeper than hiring a recruiter; your outsourced HR consultant can help you establish a talent acquisition strategy
Retain people – once you've got great people on your team, you'll need to keep them…and your consultant can establish and implement the best strategies to help you retain top performers
The advantages: 10 things that outsourced HR consulting can accomplish
The benefits of hiring an outsourced consultant can be staggering and can vary depending on your specific goals and desired outcomes. There can certainly be many unique advantages associated with your decision to hire outsourced help, but for the sake of this guide, we're speaking solely from our own experience!
Here are 10 things that outsourced HR consulting (with Castle HR) can accomplish to help improve your business:
Automation – automating HR professes will make your life easier and will be better for your business in the long run; less time will be spent manually entering information, and there will be less risk of costly mistakes.
Establish repeatable processes – when your team takes over these repeatable processes, everything will be in place for them to succeed.
Teach YOU how to fish – at Castle HR, we don't believe in recruiters; instead, we teach you how to fish and find better talent with talent acquisition processes and strategies.
Retain your top performers – there is a lot that can contribute to retention rates, including a solid talent acquisition strategy, a strong company culture, having the 'Right People in the Right Seats' and implementing quarterly Modern Performance Reviews to discuss growth and progress…we help you get all of this organized and implemented!
Understand the importance of 'Right People, Right Seats' – we often reference this EOS term because it directly correlates with your talent acquisition and retention strategies. We help you understand how to identify the 'Right People' and put them in the 'Right Seat' (role); you'll find that you can scale rapidly with great talent on your side.
Define values – your values are the heart of your company, and they should eventually evolve into virtues. Your values will help you understand who the 'Right People' are, and they're also the foundation of your company culture. That's why we always run a values exercise with each leader we work with!
Stronger, winning company culture – your culture comes from your values, and contributes toward both talent acquisition and retention…when you know how to hire the best people who all align with your culture, you'll find that they want to stay with you longer (and, that they become top performers at your company).
Make better decisions – HR data is important, and we strive to teach you how to utilize it to make better, data-driven decisions at your company.
Protect all that you've built – people are sued for many reasons every single day, so you must take proactive measures to protect your business. Compliance is critical, and so is having a termination process in place. We help you take your loose policies and turn them into a Custom Employee Handbook, and we also teach you how to Fire Well.
Customized policies and strategies – We don't believe in templates. Your business is unique, and all aspects of your business and materials – from your Employee Handbook to your Onboarding Playbook, to your company values – will be established and formalized to be custom to you.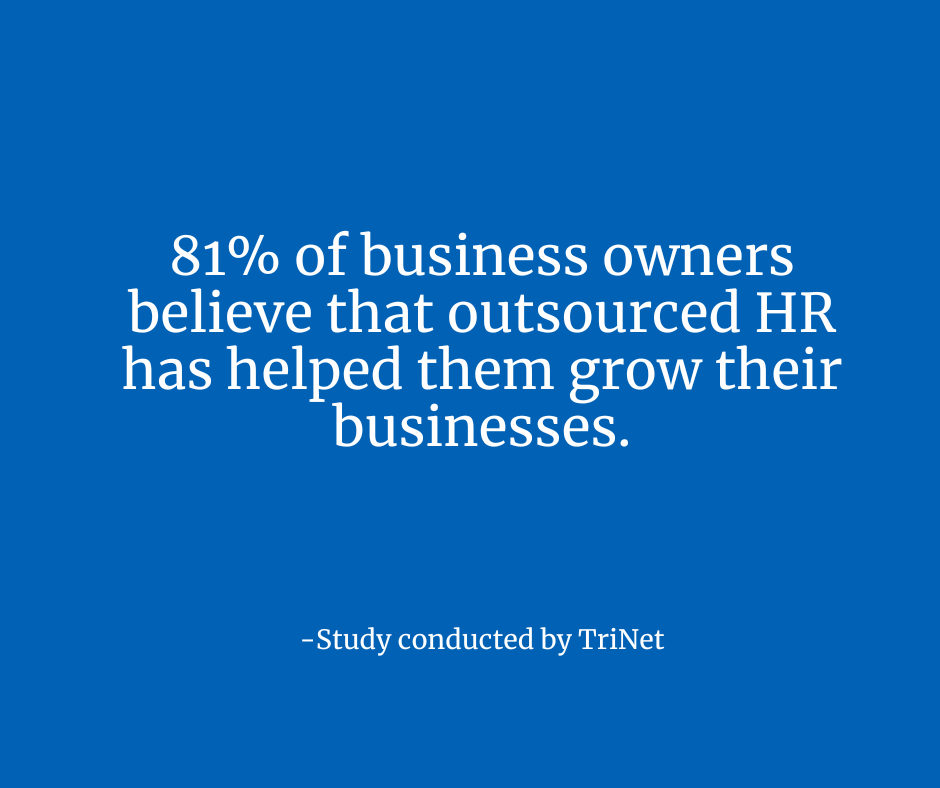 How does outsourced HR consulting work?
Outsourced HR consulting is a strategic approach that enables companies to leverage expert knowledge and experience to tackle their human resources challenges – and while we can only speak to our approach here at Castle HR, outsourced HR consulting at most firms works very differently than having an internal hire…or reaching out to a call centre for occasional support.
Outsourced HR consulting provides businesses access to a skilled HR consultant who get to know their company and create processes that will stand the test of time.
Here's general summary of how outsourced HR consulting works:
A consultant comes in or works remotely to assess your HR needs: Your HR consultant will work with you to identify your HR challenges and understand your business goals and current processes. You may have them several days throughout the week, or for limited time periods – this varies depending on the firm.
Tackling HR challenges: Once the consultant has identified the areas that need improvement, they will develop an HR strategy that addresses your specific challenges. This could include reviewing your employee handbook, performance management processes, recruiting and hiring processes, or compensation and benefits plans, depending on your consultant.
Bringing in processes: The consultant will introduce new HR processes, policies, and procedures to streamline your HR operations. These could include HR technology solutions, employee training and development programs, or changes to your benefits and compensation plans.
Here's how we do things at Castle HR:
Initial consultation: We start by getting to know your business and understanding your HR needs. We will assess your current HR processes, policies, and procedures and identify areas for improvement.
Customized HR strategy: We develop a customized HR strategy that addresses your specific challenges and aligns with your business goals. We provide you with an Action Plan for implementing changes and a timeline for completion.
Implementation: We work with you to implement the new HR processes, policies, and procedures, ensuring a smooth transition. We provide ongoing support and guidance (and unlimited HR advice) to ensure your HR operations continue to run smoothly. We operate remotely at Castle HR, and work with businesses all over North America!
How to choose the best outsourced HR consulting firm for your business
Once you've decided to hire an outsourced HR consultant, you'll want to know how to find the best firm/consultant to work with your business. Here are the steps involved:
Step One: Determine your business needs
Do you need to hire? Or promote? Are you striving to keep key people at your company?
It's always best to assess your current HR landscape and know where you want to go in the next 12 months…and how a consultant can help you get there.
Having a goal in mind can help you decide between outsourcing or hiring an internal HR professional. To aid in this decision, you should also set a budget for your HR needs and determine the time commitment required by an HR consultant!
Step Two: Research and talk to colleagues
When you Google 'outsourced HR consulting,' you'll get millions of results.
Choosing the first company that appears is not the best course of action to take.
In our opinion, you must research potential HR consulting firms and read their reviews.
Reaching out to colleagues and friends in your industry to see if they have any recommendations or experience working with specific firms is a great place to start.
At Castle HR, we have a proven track record of helping businesses in various industries succeed – from Tech Startups to Non-profit organizations. We have helped companies to scale successfully by establishing and implementing great talent acquisition strategies, modern onboarding processes and modern performance reviews – all of which contribute to building a strong company culture.
We also help leaders remain compliant and protect all they've built with custom employee handbooks.
Step Three: Shortlist and book a call to learn more
Once you've researched, create a shortlist of potential firms and book a call to learn more about their services and experience if you feel they might be a good match for you.
When you have a conversation, be sure to ask questions based on what you need and ensure that they can offer precisely what you're looking for. Ideally, somebody should resonate with you and check some of your boxes…if not, keep looking!
Step Four: Evaluate and sign an agreement
Just as service offerings will vary by firm, so will contracts.
At Castle HR, year-long contracts aren't our thing!
Your world can change in 6 months. That is why we operate on a 'subscription' basis. We understand that our clients may not require our help extensively; thus, we do not believe in multi-year contracts.
Before you sign any contracts, be sure to ask any questions and read all fine print!
Step Five: Evaluate the partnership
Once your partnership has commenced, you must rely on data and experience to ensure your chosen outsourced HR consultant delivers as you expected.
Simply put, ask yourself, are you getting value from the partnership?
We're always happy to track, analyze and share HR Data with our clients to back up and reflect our work.
Hiring an outsourced HR consultant can accomplish great things at your business and benefit you in many ways, but the last thing you want to do is select the first option you stumble upon on Google.
Taking the time to assess your current HR landscape and your business goals, talking to others in your industry and researching your options thoroughly is a great place to start.
By following these steps, you can narrow your options and make a confident decision, and one that is the best for your business!
How do you measure the success of outsourced HR consulting?
You now understand how outsourced HR consulting can be a valuable resource for businesses seeking to improve their HR strategies and practices.
But, questions often arise at this point revolving around 'how to measure the success of working with an outsourced HR consultant.'
Measuring success isn't always something that can be done after a few months…it can take time to see results. But, there are key indicators of success and ways that you can evaluate progress when you're working with an outsourced HR consultant.
Here are 5 ways to measure the success of outsourced HR consulting at your company:
Reflect on your goals
Setting goals and expectations before starting the partnership with a consultant is essential, just as reflecting on them throughout your experience is too.
Success can be measured by evaluating whether or not you have achieved those initial goals, and assessing what progress you've made. For instance, did you successfully implement new HR policies or procedures, or were you able to reduce HR costs as a result of working with the consultant?
Conduct surveys
Surveys can be an effective tool for measuring success and assessing things like employee happiness.
An outsourced HR consultant can help you develop and administer surveys to your employees to assess their level of satisfaction with HR practices, company culture, and overall job satisfaction. You can track employee engagement and morale improvements by comparing survey results from before and after working with a consultant.
Analyze retention rates and turnover costs
Retention rates and turnover costs can also be used to measure success, and these numbers should be assessed annually at the minimum – if not several times throughout each year!
Working with an outsourced HR consultant can help you implement strategies to retain top talent, reduce employee turnover, and save costs associated with hiring and training new employees. You can track improvements in this area by comparing retention rates and turnover costs before, during and after working with a consultant.
Assess your company culture
A strong company culture is another indicator of success. There are many ways to foster a strong culture, just as there are many signs that your culture is a good one – retention rates and overall team happiness can be very telling.
An outsourced HR consultant can help you develop and implement strategies that promote a positive and inclusive workplace culture, leading to increased productivity, improved morale, and lower turnover rates.
Look at your (lack of) lawsuits
A successful partnership with an outsourced HR consultant should also result in improved compliance and reduced risk of lawsuits (preferably, no lawsuits at all).
Your HR consultant will ensure that your HR practices are up-to-date and compliant with all relevant laws and regulations. They can help establish a thorough and professional termination process that will protect you as you scale.
What does outsourced HR consulting not do?
We can only speak from our experience because every consulting firm differs. There are a few things that outsourced HR consulting at Castle HR does not include.
Firstly, we do not do any form of recruiting.
We firmly believe in developing a strong and strategic talent acquisition process that includes ideal client profiles, job descriptions, carefully crafted job postings, and interview scorecards to eliminate interview bias. We always operate with the EOS 'Right People, Right Seats' premise in mind and teach you how to find the best talent for your team…and repeat the process as you scale. As we said earlier, we teach you how to fish.
While some firms may offer consultant assistance with payroll and benefits, we do not.
Our consultants are senior-level experts with 10+ years of experience; they do not do administrative tasks!
We'd be happy to chat if you have any questions about our services! Contact us today.
Costs and ROI: Is outsourced HR consulting worth it?
The cost of outsourced HR consulting services can vary depending on the firm and how long you require their service.
However, speaking from our experience, the ROI is absolutely worth the investment for many reasons.
HR consultants can cost as little as $3,000 a month and upwards of $80,000+ annually – the range is broad, but the impact is truly what matters here.
For instance, if they reduce your turnover costs significantly or help you avoid just one lawsuit, they'll pay for themselves. Let's expand on that:
Turnover is expensive.
If you have a top performer quit, and their salary was $80,000, it can cost up to $40,000 to replace this employee. It can take up to five hires to find the right person…this means that if you have a top performer walk out the door, it could theoretically cost you upwards of $200,000 to replace them.
Imagine if this happened several times a year.
Now, imagine that if, on top of turnover costs, you get sued.
The average lawsuit can cost you up to $60,000, which doesn't reflect its impact on your team and growth.
Terminations can be complicated, and if you don't have the right policies and processes in place, somebody may find that they have grounds for a lawsuit.
At Castle HR, we help companies avoid, mitigate and navigate these situations to the benefit on a weekly basis.
While the cost of an HR consultant may seem steep to some at first glance, it's important to remember that they can be a proactive move for growing businesses. An HR consultant can help you prevent issues before they arise, set your business up for success, and help you save money in the long run
Conclusion
As we reach the end of our Definitive Guide to Outsourced HR Consulting Services, we want to review key points and takeaways:
Outsourced HR consulting is a valuable solution that businesses can use to fill the gap between needing HR support but not having the budget or need for a full-time hire
Many companies consider HR consulting when they have 15 employees – they're at a point where they know their product-market fit, and are looking to expand their team
A strong HR foundation, modern HR strategies and proven processes can help your business succeed as you scale – but these things cannot be established and implemented by a junior-level hire, or a business leader with no HR experience
Outsourced HR consulting services are designed to offer guidance, advice and solutions to HR-related issues and challenges
 HR consultant's work can encompass various areas such as talent acquisition strategies, onboarding processes, modern performance reviews, value and culture development, compliance, and organizational development
Outsourced HR consultants are experts in their field and can help businesses establish a strategy and put repeatable processes in place, saving leaders time and resources, reducing legal risks and improving retention, among other benefits
Outsourced HR consultants can cost significantly less than making a premature internal hire, and can actually save you money and pay for themselves if they help you make better hires and avoid lawsuits – the ROI is huge
If you're looking for HR solutions that will impact your company's growth and want to work with senior HR consultants who live and breathe modern HR all day, every day…then we encourage you to book a call!