Imagine increasing your team's average years of tenure from 3.1 to 4.8…having regular conversations can help accomplish that!
Picture your business as a 'profit bucket.'
As you scale, your bucket will begin to fill,  and it's inevitable that, over time, cracks will appear. And while they may initially seem insignificant, those cracks will eventually become leaks.
Leaks can wreak havoc on your profit bucket. Once the damage is done, repairing it successfully may take a while.
Leaky buckets will have a hard time retaining water.
That is why you must actively look out for cracks and address them before they have the chance to escalate.
But how?
When it comes to your business, those 'cracks' may develop because of performance issues, unclear direction, and even cultural alignment problems.
The best way to proactively prevent such matters from spiralling (i.e. becoming 'leaks' in your bucket)  is to have regular, structured conversations with your team.
These conversations should focus on setting goals, discussing performance, and ensuring you have the right people in the right seats at your company. Communication can go a long way!
These conversations are best known as performance reviews, but we approach these differently at Castle HR.
In most cases, people cringe whenever performance reviews are mentioned…nobody enjoys having a stiff, one-sided meeting with their boss once a year.
When we decided to add performance reviews to our subscription, we looked around to see what was in the market.
We were not thrilled with anything we saw – we found the old-school annual approach ineffective. We wanted to change that!
So, we spent years developing our current Modern Performance Review process – and we are pleased to say its impact is staggering.
Our modern approach (quarterly conversations) helps business leaders find and fill those cracks before they become full-blown leaks – this leads to better productivity, company culture, and, most importantly, retention!
What is a performance review?
A performance review is a formal process in which an employee's work performance is assessed and evaluated by their employer.
It is an opportunity for managers to provide feedback to employees on their job performance, identify areas for improvement, and set goals for future performance.
Performance reviews typically involve a discussion between the employee and their manager.
They often involve a standardized form that the manager uses to evaluate the employee's performance in various areas, such as productivity, quality of work, communication skills, and teamwork.
Performance reviews may also consider the employee's job description, responsibilities, and performance objectives for the previous year.
The feedback provided can help employees understand their strengths and weaknesses, set goals for the coming year, and identify areas where they may need additional training or support.
Performance reviews can also be used for performance-based rewards such as promotions, bonuses, or pay increases.
A well-conducted performance review can help improve employee engagement and retention by demonstrating that the company values and supports its employees.
However, performance reviews have been historically conducted annually, making them ineffective and problematic for several reasons. As mentioned above, we recognized this flaw and dedicated a lot of time to developing a solution!
…This is where the Modern Performance Review enters the chat!
How can managers give effective performance reviews?
Managers and business leaders can give effective performance reviews to their team by implementing a Modern Performance Review process – whereby quarterly discussions/reviews are held with each team member.
A Modern Performance Review is a contemporary approach to performance evaluation that shifts the focus from a once-a-year process to an ongoing conversation. They are designed to be a collaborative, continuous feedback system. They are meant to encourage a two-way exchange between leaders and employees to help them identify strengths, weaknesses, and areas for improvement.
There are 4 core areas of focus involved with Modern Performance Reviews that allow managers to give the most effective reviews possible. They are:
'Right People'
Is your talent living up to your company's values?
Are they team players who contribute to your winning culture?
Reviewing your company values during each Modern Performance Review can help ensure you have the Right People on your team.
'Right Seats'
Reviewing each team member's primary responsibilities and accountabilities is vital in every Modern Performance Review.
This will be based on the job description you used as a part of your Modern Talent Acquisition strategy – referring to specific responsibilities will help you understand your employee's strengths and weaknesses and communicate with them.
Wellness
Doing a wellness check is an essential part of a Modern Performance Review – this was classically overlooked in the past.
Considering what is happening in your employees' lives is important because it can help you determine if their wellness needs are being met and if their performance could be impacted.
…A healthy, happy team is a productive one!
For example, at Castle HR, we check in on our team during Modern Performance Reviews and remind them they have access to Inkblot's online counselling/mental health services.
Career Growth
A great strategy to increase employee engagement, productivity, retention, and cultural alignment is to discuss career growth with each team member.
Together, you can discover where they'd like to be in a set amount of time, how they'd like to develop their skills, and how much support they'll require to get there. This keeps your business moving forward and your team headed in the right direction.
Having this structured conversation only once a year would be difficult and far less effective!
Why are quarterly performance reviews better than annual ones?
Conducting quarterly Modern Performance Reviews can help you achieve and maintain higher productivity levels, leading to a stronger company culture and better retention.
With quarterly conversations, your whole team will be kept 'in the loop' (managers and leaders included).
As mentioned earlier, regular conversations can help leaders address problems before they escalate – filling the cracks in the bucket before they become leaks.
Everybody will have a clear set of goals to work toward. You might wonder, 'Is this possible with annual reviews?'…although the answer isn't black and white, we'll tell you that it will be pretty tedious to accurately review a year's performance (for several team members) in one meeting.
When you rely on an awkward annual meeting to assess an employee's performance over a year, you'll likely be missing significant details. Tracking progress and performance over a year for each employee is difficult.
Recency bias exists for both parties in this case.
This also means that you will miss out on great potential talent you failed to develop or retain *due to only connecting once a year*.
Direction, support, and quarterly goal-setting will help people flourish in their roles. To put it simply…
With clear expectations and real-time feedback every quarter, you can foster a winning culture that drives innovation and collaboration while increasing employee performance and productivity year-round.
A modern approach to performance reviews can accomplish this much more efficiently than an annual performance review process would!
What are the benefits of quarterly performance reviews?
To summarize all that we've discussed so far, here are 4 ways that your company will benefit from quarterly Modern Performance Reviews:
Validate the 'Right People'
To foster a winning culture, you need to communicate and have accountability of your values – Modern Performance Reviews provide the conversation to ensure you always have the Right People on your team.
Validate the 'Right Seat'
You can have quarterly conversations using the expected outcomes and key responsibilities in your job descriptions. Checking the deliverables against the agreed-upon expected outcomes will allow you to provide recognition (or course correction) and validate that your employee is in the Right Seat.
Eliminate recency bias
Annual performance reviews are inaccurate – leaders have difficulty remembering what happened >3 months ago.  This is why a quarterly approach will provide data that a leader can review to provide an accurate conversation at the end of the year.
Achieve higher retention
All of the above benefits listed above contribute to the final reason why we believe you'll love Modern Performance Reviews – they will help you retain top talent. When your team is aligned and supported, they'll want to stay with you longer, and this will save you loads of time and money (think: lower turnover costs).
In addition to the above 4 benefits, having more frequent conversations surrounding performance has become the norm. Today's workforce wants to be a part of organizations dedicated to implementing modern processes and strategies!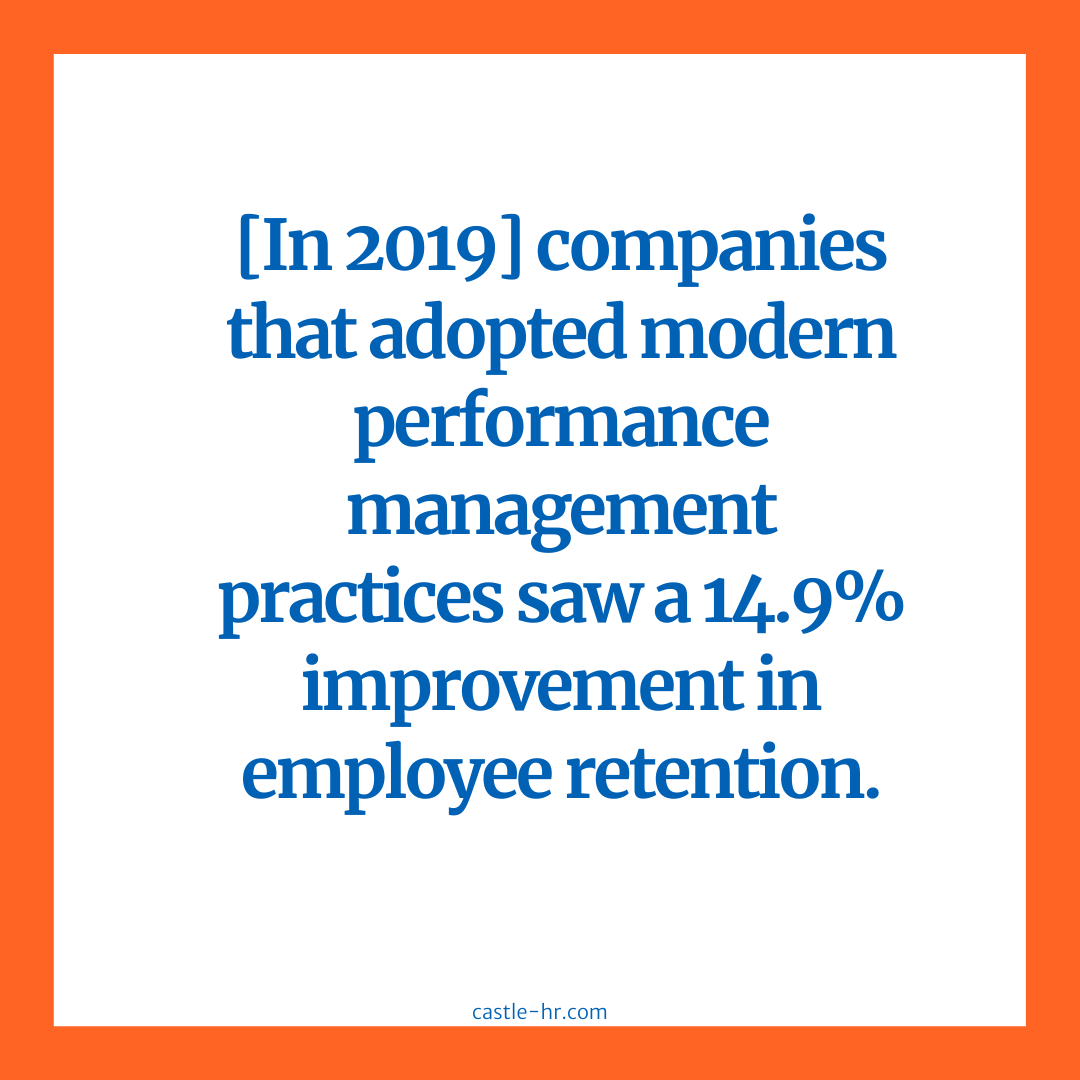 What will Modern Performance Reviews bring to your team?
It's one thing for business leaders to be pleased with their modern processes, but ensuring that your team is happy is also vital to your success.
Today's workforce values a modern approach to feedback – it isn't surprising that most employees feel they work harder when they receive recognition.
Here are 4 reasons why your team will love Modern Performance Reviews:
Continuous feedback
Your team wants to hear from you; leadership's feedback is valuable!
Studies show that approximately 69% of employees would work harder if recognized for success.
Have a career path
Today's workforce is active and wants to know how to grow into their next role.
As we mentioned earlier, it's natural that your team will look externally if they do not know where they are going internally!
Providing your team with career growth opportunities and support to level up will mean they stay longer and are happier (win-win).
Workplace culture
When you are constantly validating you have the Right People, your team will be happier; who wouldn't want to work with others who align with their values?
Knowing leaders care
Countless surveys have shown that the #1 trait of a top producers' favourite bosses is simple: they care.
How often should performance reviews be conducted?
We recommend performance reviews be conducted every quarter.
Quarterly, Modern Performance Reviews are quickly becoming the new norm, as today's workforce values having a culture of feedback and a sense of direction and support in the workplace.
Quarterly, two-way conversations can lead to better employee engagement, a healthy and thriving company culture, better performance and better retention.
Although many companies historically conduct annual reviews/appraisals, we strongly discourage these for many reasons, including:
Inaccurate feedback: The infrequency of annual reviews can result in feedback that is outdated or based on a limited sample of performance data.
Bias: Annual reviews can be influenced by personal biases or subjectivity on the part of the manager, leading to unfair evaluations and missed opportunities for improvement. Earlier in the blog, we mentioned recency bias – recalling a year's worth of events, and accomplishments can be difficult.
Lack of employee engagement: Employees may perceive annual reviews as a one-way conversation rather than an opportunity for dialogue, resulting in disengagement and reduced motivation.
Ineffective goal-setting: Annual reviews may not provide sufficient guidance for employees to set and achieve goals aligning with the company's objectives.
What does retention mean?
Retention (or retention rates) refers to an organization's ability to retain top-performing employees, keeping them engaged and motivated to continue contributing to the company's success.
Achieving optimal retention rates (i.e. keeping your top producers longer) involves implementing practical strategies and policies that promote job satisfaction, career development, and work-life balance.
Organizations can reduce recruitment and training costs by retaining talented employees, maintaining institutional knowledge and expertise, and fostering a culture of innovation and continuous improvement.
How can performance reviews help with retention?
A quarterly Modern Performance Review is a conversion about growth and progress rather than a top-down, one-sided review that takes place once a year.
Generally speaking, regular, productive conversations about growth keep people moving in a forward motion and keep everybody aligned.
When conducted quarterly, performance reviews also allow either party to present any issues and strive to develop solutions in real-time…rather than waiting for problems to escalate (and for top talent to quit).
At Castle HR, our team gets excited about their Modern Performance Reviews each quarter. It keeps everyone engaged, motivated, and set sights on accomplishing their next goal!
We also utilize our Modern Performance Reviews as a method of evaluating/confirming that we have the 'Right People' in the 'Right Seats' at our company…
How do you know if someone is in the Right Seat?
During Modern Performance Reviews, we recommended referring to each employee's job description to ensure you have the right people in the right seats.
This can help you identify any areas of improvement and review specific accountabilities with your team.
Then, we recommend focusing on career growth and development (goal setting) and employee wellness.
How do you evaluate if someone is the Right Person?
When you create your job description (part of your Modern Talent Acquisition strategy), you will detail exactly what qualities you want in a person.
Having the Right Person goes beyond finding somebody with a specific skill or credential. The Right Person can be assessed based on how they embody and demonstrate your company values and contribute to your team and the growth of your business and company culture.
During your Modern Performance Reviews, you should use your company values and reflect on specific examples of when each person did (or did not) exhibit behaviours that aligned.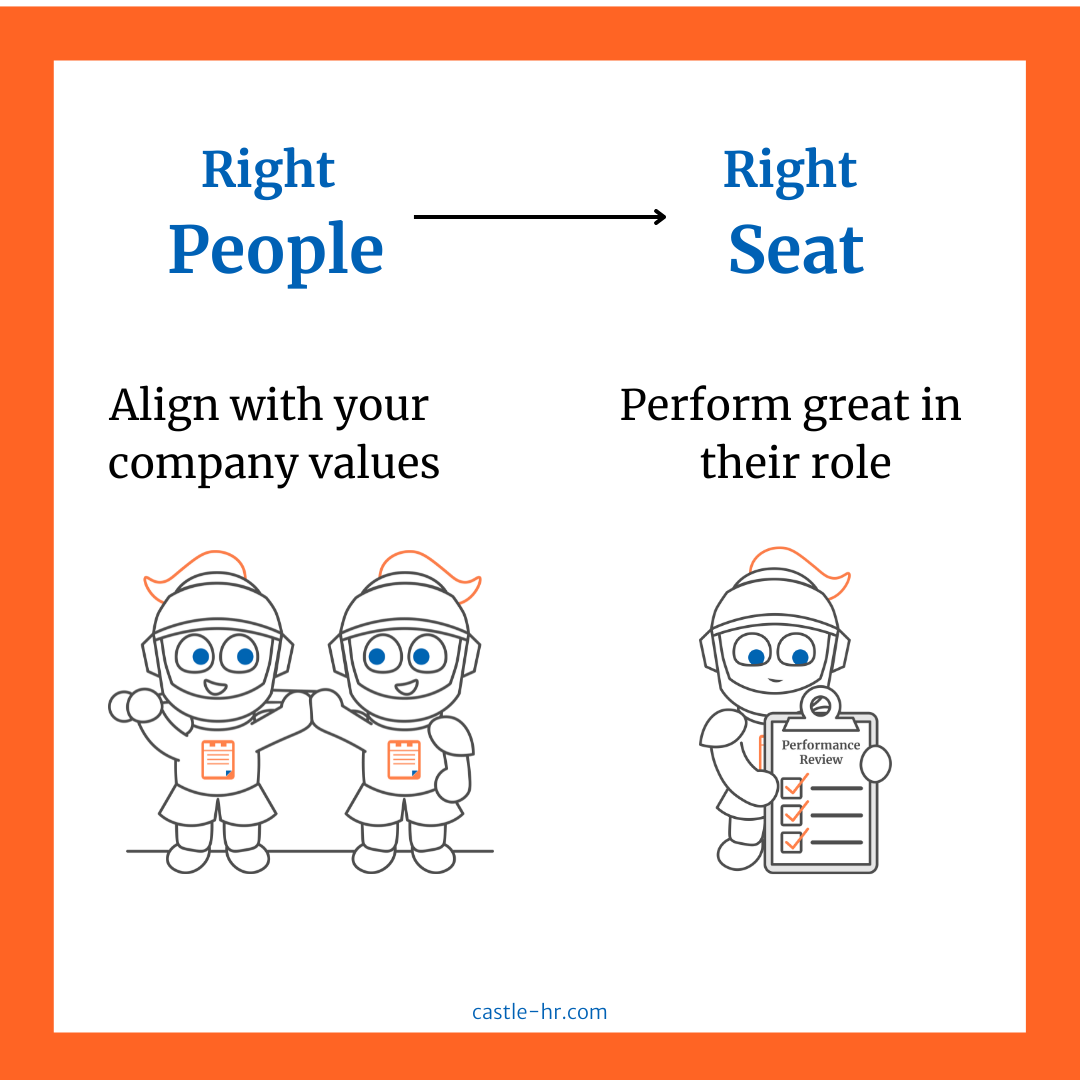 How much time should a performance review take?
We are fans of impact and ROI.
When it comes to Modern Performance Reviews, we typically see these quarterly conversations last an hour or less, depending on the person.
(It should take you less than an hour to prepare, too).
The ROI is what matters; saving a top performer is worth more than all the time you will spend on every Modern Performance Review for the year.
How can I track employee results each quarter?
Tracking results can be done by utilizing your HRIS technology to document if the employee is the Right Person and in the Right Seat and to document each Modern Performance Review you conduct (so you can reference it in the future to measure goals).
Should Performance Reviews be tied to compensation?
Modern Performance Reviews are a part of the conversation about compensation changes, but there should not be a direct link between them.
A great performance review should not automatically indicate a raise – especially when occurring 4x a year.
How can Castle HR help with Modern Performance Reviews?
At Castle HR, we spent a lot of time establishing our Modern Performance Review strategy, and we have found the process extremely beneficial – our leaders and team members look forward to their quarterly conversations!
We work closely with our clients to help them define and understand their values, how to create a strong Modern Talent Acquisition strategy, and how to utilize all of that information to develop and implement a stellar Modern Performance Review strategy at their business.
If you want to have impactful, quarterly conversations with your team (and improve retention and your company culture in the process), book a call today!